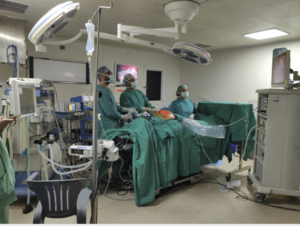 There are many kinds of conditions and symptoms that require different kinds of surgery for treatment as well as diagnostic management. One such procedure is called laparoscopy or laparoscopic surgery. This is a surgical diagnostic management procedure that is known to be a low-risk process with minimal invasion and suitable for various types of ailments. Read on to know everything about laparoscopic surgeries.
•Definition:
A laparoscopic surgery is one where small incisions are made and an instrument called a laparoscope is used in order to take a look at the organs in the abdominal region. This tool is a long tube-shaped one that comes with its own high-intensity light and a high-resolution camera that can easily move along the walls of the organs while the camera sends back imagery that will be displayed on a video screen in front of the doctor. This avoids the need for open surgery and helps the doctors in getting samples for a biopsy on an outpatient basis.
•Need for Laparoscopy:
This procedure is performed when the patient complains of persistent pain that is also sharp and shooting, in the abdomen region and surrounding areas like the pelvic cavity. This non-invasive method helps in diagnosis where other imaging methods like an ultrasound and CT or MRI scans would have failed to give a conclusive reason for the pain and suffering of the patient. When these tests do not supply enough reason for proper diagnosis, then the doctors usually resort to this kind of procedure.
•The Organs it can be used for:
The laparoscopic surgery can be used for many organs including the appendix as well as the gall bladder, the pelvic region and the reproductive organs, the small and large intestines, the spleen, the stomach, the liver and the pancreas.
•What all can it Detect:
The laparoscopic surgery can help in detecting a number of issues including any abnormal growth or mass that may be a tumour. It can also point at the presence of any disease in the liver, as well as the proper functioning of certain treatments. Also, it can show the amount of fluid that may or may not be present in the abdominal cavity and the extent of cancer's progression in the body.
Risks:
There are a few side effects or risks of this method including fever, chills, swelling, bleeding or redness of the site where the incision was made for the surgery, and shortness of breath. All these symptoms must be reported to the doctor immediately as they may point at the presence of an infection. Also, there is a risk of organ damage in this procedure.
You can watch a video of Laparoscopic Surgery for Cancer Rectum at our You Tube Channel :