VATS Thoracoscopic Surgery
VATS and Thoracoscopic Surgery in India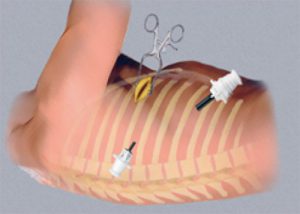 Dr. Atul Misha is a world-renowned surgeon for VATS and Thoracoscopic surgery in India. The department is facilitated and is equipped with the latest technology. Dr. Atul has a great team of doctors working under him to treat the patients suffering from various diseases of chest and thorax.
The patients are critically examined before starting any kind of procedure. Using a combination of viewing and working instruments, a surgeon can easily access to the pleural space and can perform basic diagnosis and pleurodesis.
VATS a.k.a. Video Assisted Thoracoscopic Surgery has a plethora of benefits over the open surgery, which a surgeon would recommend depending on the medical condition of the patient. It has now become a very common surgery, which has been used in daily practices by not only Dr. Atul Mishra, but by all the reputed surgeons across the globe.
History-
It wasn't adapted by the doctors when it was introduced due to its cost, possible complications, time spent on the learning curve, and lack of surgeon training. However, as the time elapsed and the medical science grew its roots, the doctors started learning the VATS and Thoracoscopic. Dr. Atul Mishra forged himself in the knowledge of the treatment and performed complex surgeries successfully to help his patients find relief.
Benefits of VATS over open surgery:
• Smaller Incisions
• Less Pain
• Less Blood Loss
• Faster Postoperative Recovery
• Shortened Hospital Stay
• Similar or Superior Survival Rates
Dr. Atul is a trained surgeon who shares a very high success rate in performing VATS and Thoracoscopic surgery in India. If we go for the surgery reports then most people who underwent VATS found it beneficial and had no complications post their surgery. Moreover, the surgery is also associated with lower risk of lower incidence of arrhythmias, reintubation, blood transfusion when it's compared to open surgery.
VATS has shown long-term positive outcomes and is chosen by people over open surgery due to its multiple benefits. Since the equipment costs a fortune, the surgery can be bit expensive depending on the location and complication.